Cybersecurity protection for security equipment is high on the agenda at most industry events in 2018. There is concerted effort to educate physical security integrators, architects, and engineers as to the best practices for secure networking of video surveillance equipment. However, there isn't much concentration on security system device and application monitoring. Vunetrix aims to change that.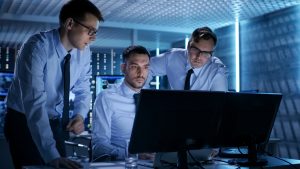 While there is greater awareness about security system monitoring solutions than12 months ago, the adoption of cloud-based and even licensed based in-house solutions has been slower than predicted. Be that as it may, lost video scenarios, compliance mandates, and organized crime threats have led the next generation of security leaders to search for answers to these vexing issues. Vunetrix believes this will lead to further key partnerships focused on a more proactive rather than reactive approach to security system anomalies and failures.
Why is Vunetrix Leading the Charge?
Vunetrix is an always on monitoring solution, designed to notify your Security team the instant any physical or network security devices or applications go offline. "Know Your Normal" forms the foundation of Vunetrix's excellence. Vunetrix Network Monitor (VNM) determines baseline conditions for each individual security device and service in your environment. Then, when there is an anomaly or change in your environment, VNM sends an alert. Alerts can be customized by priority and job function and sent directly to your Security team. Better yet, Vunetrix delivers all of your security system device statuses into one single-view dashboard regardless of the manufacturer. This allows your Security team to monitor your entire infrastructure through a single-pane-of-glass.
We like to say, "Vunetrix makes the invisible, visible."
Here are just a few of the alerts recognized by Vunetrix:
On / Off Status
Many of your security devices currently have manufacturer built-in monitoring which tell you when your device goes offline. However, these built-in solutions are internal centric and do not consolidate your multi device information onto a single view dashboard. In order to manage your security environment most effectively, it's important to have a monitoring tool that integrates all of the various IT and Security device critical alerts from each component that make up your Security System. What's more, timely responses to component performance breeches requires reliable data from security and alarm systems. Also, monitoring stations can fail to notice anomalies in your system. Some key disruptions may include: phone lines cut to alarm systems, disconnected video systems, and damaged cameras. Since alarm systems can delay reporting and produce false alerts, real-time monitoring is a superior solution that guarantees you know when a disruption occurs.
Device Data Traffic Thru Put
Device data traffic thru put is one of the most critical alerts for your security team because it identifies when your surveillance cameras are producing too much or too little data. Unexpected changes in data traffic thru put can signify a problem with the camera. Cameras with data streams that are too low in traffic volume are either sending no video at all or sending video that is below the expected quality of retained video. Meanwhile, cameras with higher than expected traffic levels may have configuration issues or may be experiencing motion events where they are not expected. Cameras that produce unexpectedly high traffic volumes are particularly troublesome as they will consume a larger than expected share of video storage resources, resulting in less video retention than the system was designed for.
Inactive VMS Service
Recording services on VMS servers can hang or become corrupted. This will cause a loss of video retention which in some cases can go undetected by the VMS itself. VNM will monitor the critical services of your server, and restart them should they become hung. In addition to recording services we also monitor SQL and other major databases, Web Services, Access Control Services and many others.
Hard Drive Failure
Hard drive failure is one of the biggest challenges Security teams face. Unless you have a monitoring tool that tells you when your hard drive is about to fail, you may lose data/video that is essential to an investigation or required by state law. Vunetrix alerts before hard drives fail. VNM monitors the remaining spare memory blocks and sends an alert to replace bad sectors when they have reached critical levels. VNM also alerts when read/write errors exceed a threshold, drive temperature is abnormal, and several other diagnostic metrics available through SMART.
Backup Power Runtime
Most security systems have a backup battery power supply for times when the security system loses access to its main power supply. It's vital for your Security team to know at all times if there is enough battery to support your security devices until the main power can be reengaged or a generator can be engaged. With Vunetrix, you can customize the amount of backup power required for each device and then alert your Security team if the power is low or has fallen below a certain threshold. This enables your team to proactively manage your security environment and safeguard it from any power failures.
Environmental Monitoring
Through the use of SNMP capable third party environmental monitors, such as the RoomAlert devices offered by AVTECH, VNM will monitor a wide array of environmental conditions. This is especially important for server rooms where changes in temperature, humidity, and smoke/fire are possible. Thresholds can be set for triggering notifications and historical data is logged to allow for forensic research of failure events.
CPU Load
Monitoring the load on your server CPU is an important function of VNM. Servers with normally high CPU load may be undersized for the application(s) they are expected to run. Or, they might be reaching the end of their lifecycle. Servers that see abnormal spikes in CPU load may have runaway driver issues, Malware present, or other software related issues. Laptops with CPU spikes may also have a battery in need of replacement. In any of these cases, machines experiencing high CPU load will see a degradation in performance. This reflects poor operation of the applications and services running on the machine and can lead to loss of critical functions such as writing data to the disk and video loss.
Benefits of Using Vunetrix Network Monitor for Security and Compliance
Improved Security and Efficiency
VNM automates time-consuming tasks and delivers real-time, holistic visibility to devices that ensure the security of all areas of your premises and accurate recordkeeping. With the correct alerts, your Security team uses fewer resources to ensure compliance and consistent performance of your security system.
Critical Infrastructure Protection and Compliance
Use VNM to monitor security systems, guarantee uptime, and streamline compliance reporting in real time. Our tool helps you ensure and report compliance as defined by state control regulations.
Rapid Troubleshooting
Having all data on a single dashboard provides you with instant visibility to assess and correct issues, using visual alerts for breaches and failures. VNM delivers the information for quick and appropriate responses, including the deployment of law enforcement and the required notification of regulatory agencies.
Business Analytics
VNM drives better physical security infrastructure and business decisions for capacity planning and system performance, allowing for better filing and reporting of mandated security plans and facility modifications. Your Security team gains valuable insight into when devices approach the end of their lifecycle and need replacing.
We invite you to contact us about the security and compliance of the video, personnel access, and facility alarm systems on your premises. Call us toll-free in the United States and Canada at 1-855 NET VIEW.
Vunetrix Network Monitoring: our always-on technology alerts you in real time of any system breaches, snags, or failures that could give intruders or unauthorized users time to break in and threaten your company's security and compliance.