This year is proving to be an exciting one for the Security industry. Security shows around the globe are showcasing the latest security products and providing quality education for industry professionals. ASIS International Columbus Chapter is no different.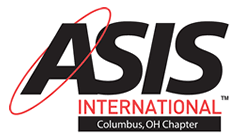 Here's what they have to offer!
Education Tracks at ASIS International – Columbus Chapter
Session 1: Emerging Trends in Prevention of Targeted Violence Events
"The goal in workplace violence prevention is to identify which steps a potential perpetrator is in, and intervene before any violent acts can occur."
J. Randall VanDyne, MBP Asst. VP/Exec Director, All Hazards Training Center, Univ. Findlay
Session 2: Securing the IoT, Challenges for Security Professionals
KEVIN WOHLEVER, CISSP is a computer scientist with thirty years of experience focused on supercomputing. He presently leads Interhack's client managed services programs in cybersecurity and forensic data analysis.
Kevin Wohlever, CISSP Sr. Manager, Interhack Corp
Luncheon Keynote
GAIL ESSEN, CPP, PSP is the President of Professional Security Advisors, a consulting firm that provides support to regional, national and global clients. Gail currently serves as a member of the Board of Directors for ASIS International.
Gail Essen, CPP, PSP President, Professional Security Advisors and ASIS Board Member
Session 3: Virtual Use of Force Training (Armed and Unarmed Security)
Using Virtual Training to Reduce Stress and Prepare for Active Aggressor Incidents
This session will focus on forward thinking methods of preparing yourself or your employees and staff for reacting and surviving any Active Aggressor event. Stressful situation require thought and planning for survival.
Michael Webber, BA President, WebbFire Training, LLC
Join US
Join Vunetrix and our newest integration partner, KST Security at booths 36 & 37. We'll be showcasing the Vunetrix SMART Dashboard (Sensor Monitoring, Alerting, and Reporting Technology). See how the SMART approach to security system monitoring can help you better manage your IP infrastructure with unprecedented efficiency.
ASSESS
See and Understand System Performance
ALERT
Detect System Health Issues
ACT
Resolve System Issues Rapidly and Effectively
Exhibition Hall is FREE! The education track is only $60! It includes breakfast and lunch. Register Now!